Integration
Integrate with new technologies such as mobile workforce, e-commerce, B2B and B2C internet trading.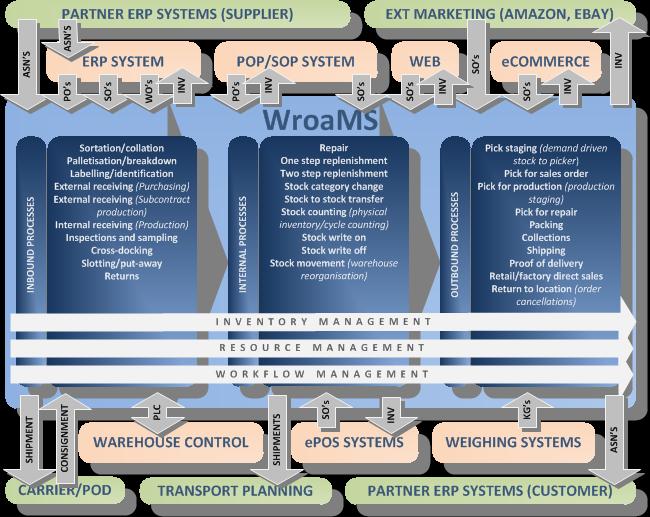 Interfacing capability
Interfacing can be complicated, large amounts of data travelling simultaneously and bi-directionally from one system to another. Extracting the right information at the right time and returning appropriate and accurate data in a timely manner so as to enhance business benefits and neither colour nor cloud them can be a tricky business.
At 4D Solutions we have been working with systems of many and varied sizes and capabilities, most of which we have had to interface to in some shape or form. With our depth of experience we will carefully guide you through the interfacing process, no matter what is the nature of the host system, in order to maximise the benefits of seamless dataflow into and out of WroaMS.
Some of the systems we have direct experience interfacing to are:
SAP
Sage
Access Dimensions
Microsoft Dynamics
Lakeview's LM4
The interfaces we would expect to implement for a medium sized customer running an existing ERP or SOP/POP solution would be:
expected receipts (purchase orders due/advance shipping notifications) - inbound to WroaMS
goods receipt confirmation - outbound from WroaMS
sales orders/production orders due for picking - inbound
pick confirmation - outbound
stock adjustments - outbound
There is nothing better than a challenge, and we will always rise to the occasion. No matter what you want to achieve we will always give it due consideration before determining what kind of solution we are able to offer.
Additional services and add-ons
Add-ons that we have already developed and form part of the standard solution are:
on demand label printing to mobile printers via Bluetooth
weighing scales interfacing within packing transactions to capture actual pack weights for carriers
carrier system interfaces, on-site or EDI
retail e-commerce order taking system interfaces for e-fulfilment applications
The additional services we can provide to enhance your warehouse installation and increase productivity include, but are not limited to, the following:
feeds into and out of automated storage and retrieval systems
signals to and from conveyors to perform various actions
interaction with location systems including GPS
direct access to real-time warehouse information from the field via GPRS
direct interaction with a mobile workforce
control of products and equipment located away from the warehouse